Welcome to the Brian Kabat Photography Website

(Coming Soon: Online purchasing!)
*Current/Upcoming Events*

**This photo took 3rd place**
in the Landscape division of the
Starved Rock Photo Exhibit & Contest
​on Sunday, February 21st
at the Starved Rock Lodge in Utica, IL!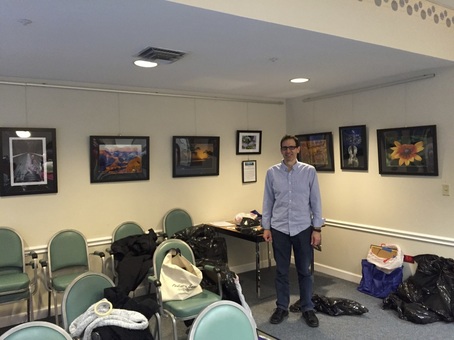 I currently have some of my work on display at
Arden Courts Assisted Living Community
3240 Milwaukee Ave., Northbrook
Because it is an assisted living complex, the showing is not open to the public. However, if you would like to see the exhibit in order to see if you may be interested in purchasing one of the photographs, contact me so I can make arrangements for you to see the exhibit.
in April, I will have an exhibit right next door to Arden Courts at
Manor Care. More information will be posted as the time gets closer.
Below is a picture of me with just a few of the pieces that are on exhibit:
---
Hello and welcome to Brian Kabat Photography!
Thanks so much for visiting my website!
I am a school music teacher and performing musician. I have been a musician all my life, and music has always been my passion. In the past several years I have also developed quite a passion for photography. Being out in nature brings me peace and inspiration, as does seeing the excitement on people's faces when they see a photo I have captured of their event, and it has brought them great joy.
I ALSO DO
STUDIO PORTRAITS
AND
EVENT PHOTOGRAPHYI am also excited to announce that I have a new product line: NOTE CARDS! These are smaller than the greeting cards I sell, and are blank inside, perfect for writing someone a quick note just to say hi, or thank you, or whatever you like! So far, the response has been great! I will have pics posted very soon of the note card designs that I offer.
I hope you like the pictures, greeting cards, note cards, and DVDs I have posted here on my website. I take a portion of the money I raise from the sale of these items to try to help my niece and nephew, who are 13 year old twins living with autism.
My brother-in-law and sister-in-law have worked very hard to seek the best possible treatments and therapies to help them. They have made incredible progress through these therapies. But, unfortunately, almost NONE of them are covered by insurance. So, when you purchase one of my photo products you are also
supporting a worthy cause!
I have additional photos posted on my Flickr page, with a link to that page on the top of this page. If you would like to purchase any of the items you see here, or on my Flickr page click on my
email
link below, and let me know what you would like to order. I can customize cards to use any pictures you like, and to even include customized text. Shipping rates will be calculated per order, if applicable.
Thanks for your support!
Sincerely,
Brian Kabat